Time of Useful Consciousness
Lawrence Ferlinghetti
Hard Cover
Publisher: New Directions
Publication Date: October 24, 2012
88 pages
ISBN: 9780811220316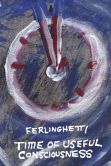 Lawrence Ferlinghetti's Time of Useful Consciousness is a stream-of-conscious poem documenting the conflicted times, inspirational places, and larger-than-life personalities with which Lawrence Ferlinghetti lived and interacted. This is not a Ferlinghetti auto-biography. It is, however, an auto-biographical snap-shot that critiques an enigmatic yet dysfunctional America.
     The term "Time of Useful Consciousness" refers to the aeronautical idiom that identifies the length of time between when a pilot loses oxygen and when he passes out; that very short interval of time when the action to recover can be taken. Naming the work after this phenomenon seemed to me at first glance a bit unrelated to the content but Ferlinghetti's belief that we are now, as a culture, living within such a moment brings it all into perspective. He delivers here a concise, cautionary tale of our increasingly gadget-, media-, and tech-obsessed culture, our self-indulgent mentality, and our arrogant outlook toward the rest of the world. With this work he adds to the distinctive saga which he began in Americus.
     When I read I generally record my first impressions and feelings of the work so that I have a starting point that I might use in my review. When I began Time of Useful Consciousness my first note was this: "Makes me want to grab a pencil and start documenting all the people, places, and events mentioned here. In fact, re-read it just for that purpose." For me, Lawrence Ferlinghetti always creates entertaining and worthwhile poetry. He's one of the few living poets that I seek out every time I go into a book store and for good reason – He's an excellent poet of unnatural ability. Sometimes lost in the haze of the Beat movement Ferlinghetti is, in my opinion, one of the world's most underrated (or perhaps, under the radar) poets and deserves serious study. Time of Useful Consciousness is a work that every aspiring poet should study and a must-read for anyone that cares about evocative poetry.
5 out of 5 stars
The Alternative
Southeast Wisconsin
Additional Reading:
San Francisco Chronicle Review
 Ferlinghetti Discusses Time of Useful Consciousness
Lawrence Ferlinghetti's Wiki Page